19 March 2019
Royal Party opens Bush House
Her Majesty The Queen, accompanied by Her Royal Highness The Duchess of Cambridge, met robotics and artificial intelligence researchers from the Department of Informatics as they opened Bush House on Tuesday 19 March.
Her Majesty The Queen opens Bush House
The Royal Party were introduced to scientists who are undertaking groundbreaking research as they formally opened the building, previously the base for the BBC's international broadcasting.
The Queen and The Duchess chatted to academics and students from the Centre for Robotics Research (CORE) and Reasoning and Planning (RAP) research group at King's and watched a number of demonstrations.
The cross-Faculty initiative 'Robotics at King's' develops creative robotic approaches to society's most critical challenges. The team brings together expertise in high-fidelity sensing, high-precision manipulation, machine learning, intelligent control and human-robot interaction to address a broad range of problems facing medical, manufacturing, agriculture and emergency response domains.
On display at the Bush House event were:
'smart' textiles and clothing which can measure physical performance, including muscle activity, gait and posture, all of which help improve lives and rehabilitation from physical trauma. 
a tentacle-like robot designed for safer, faster non-invasive endoscopic surgery to treat early stage cancers. 
King's artificial intelligence work on a Mars Rover, allowing it to forward plan activities and speed up scientific exploration on the red planet.
multi-robot teams that can operate in environments which are unsafe or inaccessible for people or undertake tasks which are repetitive, where people can get bored easily and make mistakes, such as searching for victims to rescue in a collapsed building or searching for ripe vegetables to harvest in a greenhouse.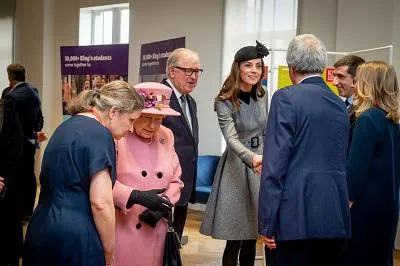 Her Majesty The Queen and Her Royal Highness The Duchess of Cambridge meet Professor Ed Byrne and academic staff from the Faculty of Natural & Mathematical Sciences.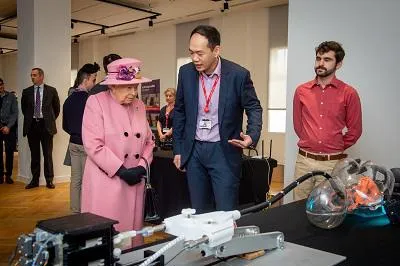 Her Majesty The Queen meets Dr Hongbin Liu, Department of Informatics.
Later in their visit, the Royal Party viewed Bush House's auditorium, where they heard about the innovative research into urban science to improve public health and wellbeing taking place within CUSP London. Her Majesty unveiled a plaque, formally opening the building, before signing the Visitor's Book alongside Her Royal Highness.
Also included in the showcase at Bush House, which brings together 15 departments and institutes across three Faculties, as well as the Student Union, were the real-time trading floor in the King's Business School, entrepreneurial initiatives from the Entrepreneurship Institute, and King's research into wildfires and weather patterns.
Professor Ed Byrne AC, President & Principal, King's College London said: 'We are delighted and most grateful to Her Majesty The Queen and HRH The Duchess of Cambridge for opening the new Bush House buildings, here at King's. Today, Bush House provides a creative environment that fosters innovation and collaboration and supports our vision to serve society by delivering world-class inspirational education, innovative research and life-changing impact across the globe. This unites and symbolises our national and international reputation and aspirations with our global history and connections, bringing together our interdisciplinary research and education in one place, as we strive to make the world a better place and serve society.'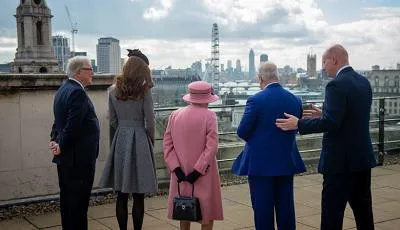 The Royal Party visit the 8th Floor terrace of Bush House.
Lord Geidt, Chairman of King's College London said: 'As the fourth oldest university in England and one of the top UK universities in the world, it's appropriate that King's is the university to call Bush House home. Formerly the base of the BBC's international broadcasting, it is now our launchpad for our international service as the global university we are, providing world-class teaching and cutting-edge research, here in the heart of London.'
In this story