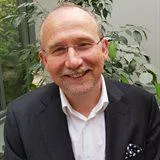 Professor Edmund Sonuga-Barke
Professor of Developmental Psychology, Psychiatry and Neuroscience
Research interests
Mental Health
Neuroscience
Psychiatry
Psychology
Contact details
Biography
Edmund Sonuga-Barke is Professor of Developmental Psychology, Psychiatry and Neuroscience at the Institute of Psychiatry, Psychology and Neuroscience, King's College London. He was appointed to King's in January 2017, following 19 years as Professor in the School of Psychology, University of Southampton. He is Deputy Lead of the Child Mental Health and Neurodevelopmental Disorders Theme at the NIHR Maudsley Biomedical Research Centre. 
Motivated by his own experience of growing up with learning difficulties his research focuses on understanding the origins of neuro-developmental differences, particularly variations in attention and impulse control (i.e., ADHD), and their impact on mental health. To this end, he employs basic developmental science approaches to study the genetic and environmental bases of risk and resilience and the role of mediating brain processes. The ultimate goal of this work is to develop more effective interventions that reduce impairment and promote growth.

Professor Sonuga-Barke is a Fellow of the Academy of Medical Sciences (elected 2016) and The British Academy (elected 2018). In 2019 he was elected a Skou Professor at Aarhus University, Denmark. He is the editor-in-chief of the Journal of Child Psychology & Psychiatry. He has also been Elected Member of Academia Europeae in 2023.
Teaching
MSc Child and Adolescent Mental Health and MSc in Genes, Environment and Development in Psychology and Psychiatry – delivery of ADHD lectures
CAMHS ST trainees – lectures on ADHD
Supervision of individual research projects on the following KCL courses:
MSc in Child and Adolescent Mental Health
MSc in Neuroscience
MSc in Genes, Environment and Development in Psychology and Psychiatry
Intercalated BSc in Psychology Neuroscience and Neuropsychology
BSc in Psychology
Research Groups