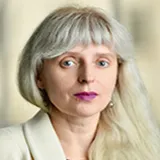 Dr Gabriele Salciute Civiliene
Senior Lecturer in Digital Humanities Education
Contact details
Biography
Gabriele holds a PhD in Digital Humanities from King's College London, where she is currently a Lecturer in Digital Humanities Education, and teaches practical and theoretical courses in VR, web technologies, and programming for the humanities. Her thesis was focused on developing text mining techniques for distant reading across languages under the joint supervision of Prof Willard McCarty (KCL) and Prof Theo Hermans (UCL). She also holds a Master's degree from the University in Bergen where she wrote her dissertation in cognitive linguistics and journalistic discourse.
Gabriele started as an art trainee and studied art history before she moved to textual scholarship. She worked as a translator and interpreter. Apart from her native Lithuanian, she is fluent in Russian, Polish, and English, and has a working knowledge of French and Spanish. She also has work experience in marketing and sales from Pearson Education and Open Book Publishers.
Research Interests and PhD Supervision
Cross-linguistic computing & modelling
Aesthetic prototypes of computing
VR ethnographies
Data visualization and epistemologies
Semiotics of pre-/digital media
Gabriele comes from textual scholarship, but her broad interests extend beyond narrow senses of text. More specifically, she is also interested in the role of digital artistic practices in knowledge production; in immersive and spatial data visualization; artistic and aesthetic prototypes of computational thinking. Her love for languages and literary imagination translates into her ongoing research into speculative text design and modelling. She is currently working towards developing the framework and methods of distant reading across languages to explore the acts of transculturation, culturally situated identities, and psycho-dramatic idiosyncrasies through narratives in transmission. The projects of Distant Reading across Languages (https://dral.kdl.kcl.ac.uk/) and Virtual Realities and Literature across Languages (https://vr-ell.com/) illustrate some of her ideas.
Teaching
Gabriele has extensive teaching experience in various areas of the digital humanities and textual scholarship at undergraduate and postgraduate levels in and outside the UK.
Expertise and Public Engagement
Gabriele organised many conferences for teachers of English and supported projects focused on raising communal awareness of foreign languages while working for Pearson Education.
Gabriele is on the editorial boards of international scientific committees and journals, including AMONET; Herança – Revista de História, Património e Cultura; Texto Livre; Entre Letras.
Selected Publications
Salciute Civiliene, G. (2021). "VR Ethnography: Transcultural Reimagining of William Faulkner's Topographies of The Sound and the Fury". In AMPS Proceedings Series: Connections: Exploring Heritage, Architecture, Cities, Art, Media Conference, AMPS 2020. ISSN 2398-9467
Salciute Civiliene, G. (2021). "Data Artification". In Advances in Design and Digital Communication, Springer Series in Design and Innovation, ed. by Nuno Martins and Daniel Brandão. Springer, pp. 234-243. https://doi.org/10.100/978-3-030-61671-7_22.
Salciute Civiliene, G. (2020). "Modelling Translation as a Theatre of the Mind: Reporting Clauses and Inward Affect". Signum: Estudos da Linguagem. ISSN: 2237-4876
Salciute Civiliene, G. (2020). "Between Surface and Depth: Towards Embodied Ontologies of Text Computing across Languages". Interdisciplinary Science Reviews. https://doi.org/10.1080/03080188.2020.1764800.
Salciute Civiliene, G., Ciula, A., Noël, G., Ferraro, G., and Romanova, N. (2019). Distant Reading across Languages (DRaL) [Data set]. King's College London. https://dral.kdl.kcl.ac.uk/.