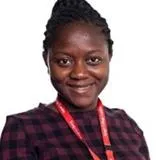 Dr Adejoke Oluyase
Research Associate
Contact details
Biography
Adejoke qualified as a pharmacist in Nigeria in 2007. She has experience of providing high quality, patient-centred care to patients. Adejoke successfully completed her MSc in Clinical Pharmacy, International Practice and Policy at the School of Pharmacy, University College London.
Adejoke's PhD project was a mixed methods study that assessed the appropriateness of prescriptions for mental health disorders or pain among people with substance misuse problems. During her PhD programme, she was involved in a NIHR funded systematic review project that evaluated the accessibility and acceptability of self-management support interventions for men with long-term conditions.
She joined the Cicely Saunders Institute in June 2017 to work on a Cochrane Review investigating the effectiveness of inpatient specialist palliative care in acute hospitals for adults with advanced illness and their caregivers.