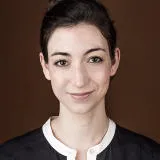 Dr Caroline Green
Post-doctoral Fellow
Contact details
Biography
Caroline is a human rights researcher who began her career in international development, working on a prison reform project in Bangladesh and then became progressively interested in the rights of older people and social care. From 2016-2019, Caroline undertook a PhD in Gerontology investigating perspectives on the potential role for human rights in care homes for older people in England.
Dr Caroline Green is an Early Career Research Fellow at the Institute for Ethics in AI and Research Fellow at Reuben College, University of Oxford.
Caroline co-ordinates the Human Rights and Social Care Forum.
Caroline Green developed three human rights tools with the British Institute of Human Rights, explaining them in a blog post, December 2020. Available online, the tools are: Personality test | Who am I? | Human Rights Story Dice. 
Publications and blogs include
Emmer De Albuquerque Green, C., Tinker, A., and Manthorpe, J. (2018) Respecting care home residents' right to privacy: what is the evidence of good practice? Working with Older People. 22(4), 198-210.
Emmer De Albuquerque Green, C. (2017) Exploring care home providers' public commitments to human rights in light of the United Nations Guiding Principles on Business and Human Rights. The Journal of Adult Protection. 19(6), 357-367.
Emmer De Albuquerque Green, C. (2018) Suzanne Cahill, Dementia and Human Rights, Policy Press, Bristol UK, 2018 238 pp., pbk £24.29, ISBN 13: 978-1-4473-3140-7. Ageing and Society. 38(11), 2397-2399.
Making Human Rights happen in care homes for older people (December 2018) – Alliance Scotland.
The Government Must Do More to Protect Human Rights in Care homes (January 2018) – rightsinfo.
CQC emphasises the importance of human rights for high quality care services (March 2018) – Health & Social Care Workforce Blog.
Human rights and the caring society (August 2019) – Grant Thornton.