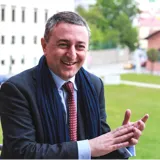 Dr Vinicius de Carvalho SFHEA
Vice Dean (International), Faculty of Social Science & Public Policy
Reader in Brazilian and Latin American Studies
Research interests
Conflict
Culture
History
Security
Contact details
Biography
Dr Vinicius Mariano de Carvalho was born in Barra Mansa, Brazil. He received his PhD from the University of Passau, Germany, and his undergraduate and MA degrees from the Federal University of Juiz de Fora, Brazil.
He joined King's in 2014 and before he was Associate Professor for Brazilian Studies at Aarhus University (2008-2014), Denmark, where he was also Director of the Latin American Centre (2012-2014).  Vinicius was a Lieutenant in the Brazilian Army (2007-2008), serving in the Military Technical Corps.
At King's, Vinicius is Vice Dean (International) for the Faculty of Social Science & Public Policy, and between 2020 and 2022, he was director of King's Brazil Institute. At the War Studies Department, he is the Convener of the MA in Strategic Communications and teaches UG modules on Latin America issues.
Vinicius is the Circle U. Academic Chair Programme Coordinator. He has played an active role contributing to the field of Brazilian studies, founding and editing Brasiliana – Journal for Brazilian Studies and as Editor of the Anthem Brazilian Studies Series.
In 2022, Vinicius created the Observatory of Democracy in Latin America (KODLA). He is also an Associate Researcher at the Centre for Strategic Studies of the Brazilian Navy. Parallel to his academic career,  Vinicius is a music conductor and currently directs the King's Brazil Ensemble.
Research
Brazilian and Latin American Studies
Civil-Military Relations
Peacekeeping Operations
Strategy
Strategic Communications
Brazilian Music, Literature and Culture
In the field of Brazilian Studies,  Vinicius's research and publications are a reference within the field, covering a diverse range of areas including literature, music, religion, history, international relations and defence and security.
In the fields of defence and security,  Vinicius specialises in Latin American and Brazilian Armed Forces, with reference to historical and contemporary issues. In his research and teaching, he covers aspects such as Brazilian participation in United Nations Peace Operations; civil-military relations; the role of the armed forces in police tasks; strategic communications; strategic thinking from a Latin American perspective and the relationship between the arts, music and conflict.
Teaching
6SSW3012 – Security and International Relations in Latin America: From independence to the present days
7SSWN087 Strategic Communication: Theories & Concepts
7SSWN004 Applied Strategic Communications
PhD supervision
See Vinicius's research students
Further details