A thriving King's staff community
Supporting our people to develop their potential
At King's, how we work and interact with others is as important as what we achieve.
We actively cultivate an inclusive and welcoming community where all feel they belong and are respected. We are committed to amplifying the staff voice and enabling career progression. And, most of all, we continue to develop a positive workplace culture that supports everyone to perform at their best.
Our ambitions
To support our staff to thrive, we are:
continuing to build a strong, inclusive culture where everyone feels included and able to contribute
improving LGBTQ+ inclusion
supporting disabled staff, neurodiverse staff, and those with long-term health conditions and mental health and wellbeing needs
further accelerating our ambitious plans for gender equality through our Athena SWAN proposals and for race equality through our Race Equality Charter
supporting our staff to perform at their best through policies and management practices that recognise their whole selves
enabling flexible working for all staff wherever we can
empowering our staff to build their chosen careers at King's and beyond
investing in leadership programmes to build capabilities and to role-model positive behaviour
measuring, reporting on, and improving staff engagement and satisfaction
actively promoting our principles so that all King's staff are aware of the appropriate and inclusive behaviour expected of them.
Our principles in action
Developed alongside our staff community, these set out how we can get the most out of our work and interactions with others. 
Include
We value the individual, seeking out diverse people and opinions
Challenge
We think beyond the norm, to benefit our community and society
Support
We offer support to enable all our colleagues to learn and excel
Connect
We bring together diverse views and expertise to influence others
Representing our staff voice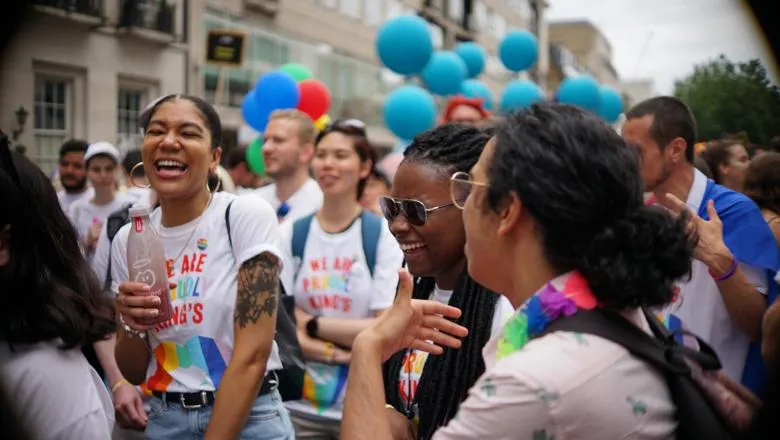 Connecting with colleagues, accessing peer support and exchanging ideas
Opening up dialogue and representing our staff community