You can pay your residence and / or tuition fees by card online using our payment platform, called Global Pay for Students.
This allows you or your parents, to pay your fees in the currency of your choice, giving you a simple, quick, and secure way to make a payment.
Please be aware:
We do not offer the option to make a payment in GBP with a non-UK issued card.
Converting money from one currency to another is a relatively low-cost task for a financial services provider. However, transferring that money across a country border is very expensive for the end recipient who's paying the cost of the transfer. Foreign currency exchange providers often charge a foreign exchange margin to cover the costs of these transactions.
Our partner Convera offers multiple competitively priced alternative payment options through GlobalPay for Students, including bank transfers and other real time options.
Important to know: This does NOT impact pounds sterling (GBP) payments with cards issued in the United Kingdom.
Your Payment Options
We strongly recommend that you avoid converting your local currency into GBP and loading it on to a credit card issued outside of the UK, and instead either:
Convert and deposit your GBP funds into an accessible bank account where you can make your payment to King's College via an international bank transfer on GPfS (making sure you familiarise yourself with any associated transfer costs that your bank/a third party may charge)
or
Make your payment using one of the alternative local currency options provided on GPfS.
If you need further help or support with your payment through the GPfS platform, feel free to contact our Credit Control team.
Payment Security and Compliance
Always take a moment to check the URL address of the web page you are being directed to is legitimate. King's web pages would start https://www.kcl.ac.uk/
The 'Global Pay for Students' URL you will see is https://students.convera.com/kingscollege#!/
You may be approached via social media web sites or in person, offering you alternative methods of payment with incentives and discounts. GPfS is a safe and secure means of payment, and we require all payments to be made using this college approved route.
3D secure (3DSv2) – when you make a card payment online you may see reference to 3D secure or 3DS v2. 3D secure is a multi-factor authentication protocol used by the card issuer at the point of checkout, to digitally make sure it is really you making the payment and not a fraudster with your card details. In order for your card issuer to approve your online payment, they may ask the cardholder to provide some data. This may be in the form of a pass code the card issuer has sent you or biometrics such as face recognition or a fingerprint. For more information, please check the information provided below by VISA and MasterCard
Convera are responsible for processing payments through the Global Pay for Students platform and as a Financial Institution, they are obligated by compliance regulations to screen all payments against global databases and may therefore need to contact you for more information before passing the funds onto King's College London. If Convera require additional information they will contact you from a convera.com email address.
 Should you receive a request via email for more information about your payment, whilst taking care to cross check the email address, please ensure you respond to the email immediately as failure to do so may result in the payment being returned and you needing to make a replacement payment.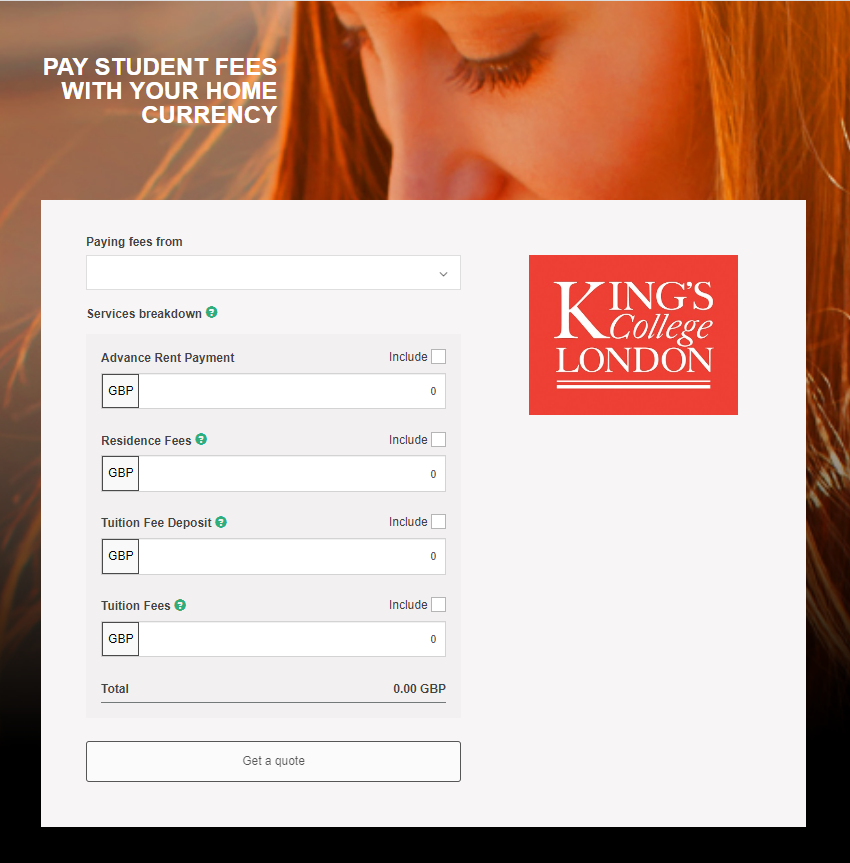 Benefits of Using Global Pay for Students
Intuitive, mobile friendly interface for a seamless payment experience
Payment in local currency providing transparency around cost of your college fees.
Payments received by King's and allocated to your invoice within 36hrs
Peace of mind that your full payment is received by Kings College London
Multi language platform: French, Mandarin, Cantonese, Korean, Indonesian, English, Spanish, Japanese, Arabic and Hindi
Customer support service to help you with every step
If you want to pay by Card
 1. Access the Global Pay for Students service here
2. Enter the country which your card is issued in and enter the fee amount you wish to pay in the relevant fields in £ sterling.
3. You will be presented with a list of payment options and the corresponding rates in your local currency, and you must select the option suited to you most.
If you wish to pay by card then you will usually find the card options further down the list as they are presented in order of cost, cheapest first. If there are multiple options, then you may need to click on the 'show more options' button at the bottom
If there are no payment options in your currency, then you should be presented with an alternative currency to make payment in.
Please take care to check you are selecting a payment in the correct currency
4. Enter your student details including ID, name, email and date of birth and the relationship of the payer to the student
5. Enter the payer details including the cardholders full name and their full address the card is registered to. Boxes marked with a * are required but to reduce risk of a failed payment attempt we would strongly encourage you to populate all relevant fields
6. You will be asked to read and accept the conditions of use.
7. Enter payer card details and submit
I cannot find a card option on the list, what should I do?
Unfortunately, there are some currencies which King's College London are not permitted to trade in on the international markets.
If you cannot locate a card option on the drop-down list, we would advise you to use a bank transfer option being presented in your local currency and if this isn't available either, to then use an alternative currency presented.
If none of these options are available, then please contact Credit Control (credit.control@kcl.ac.uk) for further advice on how best to process your payment.
My card payment is getting declined, can you help?
Whilst students are expected to pay in advance of any impending fee due dates, we appreciate that complications can arise when attempting to make your card payment. In March 2022, a new global multi factor authentication protocol (3D Secure V2) for online card payments was introduced, which in October 2022 formally replaced the original 3S Secure V1. Our troubleshooting document explains what 3D Secure V2 is intended to help you to work through any challenges you may encounter when trying to pay by card.
I have a card issued in another country, but I am living in the UK?
When selecting the country you are paying your fees from, choose the country in which your card was issued.
This will help you to avoid any unnecessary foreign exchange charges.
I have a card issued in a country outside of the UK and I would like to pay in pounds sterling (GBP)
It is not possible to make a payment in GBP using a card issued outside of the United Kingdom. If you still wish to pay in GBP and do not have a card issued in the UK, then we would invite you to pay by bank transfer in GBP instead.
You may also wish to review other payment options in your local currency by selecting the relevant country in the 'Where is your bank located' drop down. If however none of these options are possible, then please feel free to contact Credit.Control@kcl.ac.uk to discuss the matter.
I am not happy with the rate I am being offered on the card option
Card payments are usually a more expensive option of payment compared to a bank transfer due to the international card transaction fees.
King's College London wants to give you the choice and ability to compare the different options in real time so please consider all payment options being presented through the GPfS payment platform.
I already have a link saved for credit card payments. Can I just use that one?
Card payments are no longer being taken via WPM.
If you are a returning student and have bookmarked the original web page (https://epay.kcl.ac.uk/feepay/) then please remove this bookmark and replace with the Global Pay for Students Platform (https://students.convera.com/kingscollege#!/)